Waving the flag high for neo-burlesque, Dares is an excitable bundle of theatrical drama and comedic mayhem. Dares' high energy routines are perfect for parties, festivals and burlesque & variety nights alike. Seeing life through the eyes of her cleverly constructed characters is a creative cabaret experience not to be missed.
Angel: ARTY & SURREAL TAKE ON CLASSIC BURLESQUE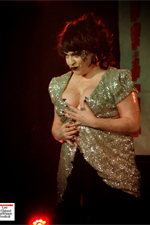 Performed to dépêche modes classic electro sensation 'Angel' Dares character writhes onto the stage pulling the audience into the dark web of her desires. A dark and seductive based piece created to stir the mind, ideal for Halloween with one hell of a finale…
Please see the Gallery for more photos!
Alien: Out-of this World Cabaret, Rock Act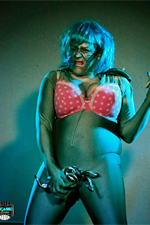 This unusual species is hungry for alien sex and is left frustrated after a date draws to a close and the man has not fulfilled her desires.
This act is easily adapted for Christmas/ Easter/ Valentines or other holiday periods. Expect raunchy, full on alien loving, with one hell of a climax. Please see the Gallery for more photos!
Zebra: Epic Journeying & Techno Raving Neo-burlesque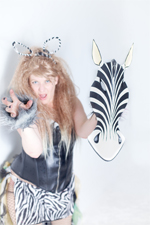 Dares brings you the story of a young Zebra migrating from the Serengeti, Tanzania all the way to Hackney, London for a rave and all the adventures she has along the way.
Dramatic storytelling that captures the essence of both innocent & debauched joy. RAVE till you die. Please see the Gallery for more photos!
Cock-Err: Nostalgic 90's Drag King Cabaret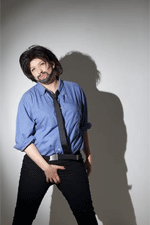 Introducing the world's only (self proclaimed) number 1 Jarvis Cocker expert.
Listen and watch as the story unravels in all its Brit Pop Lovin' theatrical glory, with a twist. Please see the Gallery for more photos!
"Great act idea, great movement, great comedy facial expressions. So funny, I loved it!"
Dolly Rose
Burlesque Artiste and Vintage Dancer
"Pure comedy Genius! Love how you fuse performance and burlesque. I want to be a Zebra!!"
Betty Blue Eyes
Burlesque Artiste
"Ursula's energy on stage is comparable to that of a Duracell bunny! Great comedic sketches packed with nostalgia and laughs. Her 'Cocker' act is one not to be missed!"
Abi Blain
International Cabaret Performer, Singer & Compere